HI 6600 Modular Sensor System
Revolutionary concept for process weighing technology:
Up to 28 Channels of Weight on one SINGLE Ethernet Connection!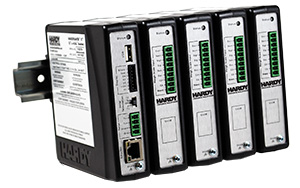 The HI 6600 series is a modular system of weight processors that deliver up to 28 channels of fast, stable, high-resolution weight readings to PLCs, PACs and DSCs over a single fieldbus network connection.
Ideal for applications that require more than one channel of weight, such as inventory tank farms, batching systems and multi-head filling machinery; each channel of the HI 6600 processes signals from up to four connected load cells then outputs the entire system's weight data over Ethernet TCP/IP, Modbus TCP or RTU, and either EtherNet/IP or Profibus-DP, depending on the Hardy Gateway Module.
SOLID PERFORMANCE
The HI 6600 enhances productivity of manufacturing systems by digitally suppressing noise and dramatically reducing scale settling time. Even in noisy environments with excessive amounts of mechanical vibration, the HI 6600 provides a steady 1:10,000 resolution in oz, lb, ton, g, and kg with 110 updates per second over its variety of communications protocols.
EASY INSTALLATION
Just snap the number of weight channels you need onto a DIN rail, connect power, cable the units together to the Gateway Module using standard Cat5e cable, connect sensors, power up and press DISCOVER. The system will automatically identify all the modules connected together and make them addressable for set-up and calibration through the PLC, embedded Webserver or optional display. A Rockwell EDS_AOP simplifies integration using RSLogix.
Modular multi-channel system with up to 28 weight processors and a gateway module

Optional display, can show weight from up to 28 connected weight modules, displaying up to 4 channels simultaneously

Ultra-low power consumption eliminates the cost of cooling in the control cabinet
EtherNet/IP, Ethernet TCP/IP, Modbus TCP or RTU, or Profibus-DP
Embedded Web Server, enables remote access to setup and calibration from anywhere on your Ethernet network
C2 Electronic Calibration, fast and simple without test weights
Waversaver, automatic vibration suppression for stable, accurate weight readings

IT (Integrated Technician), integrated support tool for troubleshooting and diagnostics

Easy installation and setup, with Rockwell EDS_Add-On-Profile
Inventory Measurement
Level Measurement
Batching / Blending
Filling / Dispensing / Dosing