Loading & unloading – fast, accurate, repeatable
For receiving and loading bulk goods, mostly totalizing bulk scales (Discontinuous Totalizing Automatic Weighing Instruments / Totalizing Hopper Weighers) are used. Here, our weighing controllers perform all measuring and control tasks that are subject to legal metrology control.
With sophisticated signal processing and field-proven algorithms, the devices offer everything needed for reliable and precise results in the handling of bulk materials, even in plants with high hourly output.
The connection to higher-level control systems is supported by comprehensive connectivity via various interfaces.
miniPond 3P

Multifunctional weighing controller for process technology
The new miniPond 3P weighing controller from B+L offers maximum versatility and precision when filling bulk solids and liquids. Various configurable weighing modes, dosing settings and automatic functions are available. In addition, the miniPond 3P meets the relevant OIML and MID requirements for approved, verifiable weight determination – also in totalizing mode.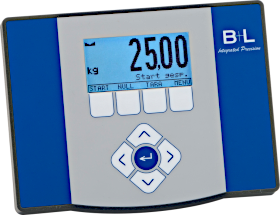 Thanks to integrated, fast dosing algorithms, the miniPond 3P can work autonomously without time-critical communication to the higher-level control system and thus ensure delay-free and time-optimized dosing processes. The multifunctionality of the miniPond 3P with approval for ATEX Zone 22 is underlined by its high level of integration and user-friendliness, a web server for task-specific parameterization, for remote diagnosis during operation and for remote maintenance, as well as by comprehensive connectivity options.
CSC25-IMN
The CSC25-IMN filling and loading controller executes all functions required in legal-for-trade applications, such as weight measurement and display, verifiable storage and traceability of weights/totals.
It offers 5 operating modes and interfaces for PC and PLC connection.
Automatic dosing sequence for one component with coarse/fine flow and free-fall compensation. High dosing accuracy thanks to the 2ms cycle. Approved totalizing and alibi memory. MID test certificate.