miniPond 3C
Checkweighing Controller

The miniPond 3C weighing controller provides the functions required for trade-approved weight determination in automatic checkweighers. With the fast and accurate registration of the product weight, it is assigned to one of the five tolerance zones.
Intuitive operation thanks to clear, application-oriented menus and dialogs. Commissioning, parameterizing, remote access and maintenance also via a network using the integrated web server or fieldbus. Easy link-up to a PLC or control system.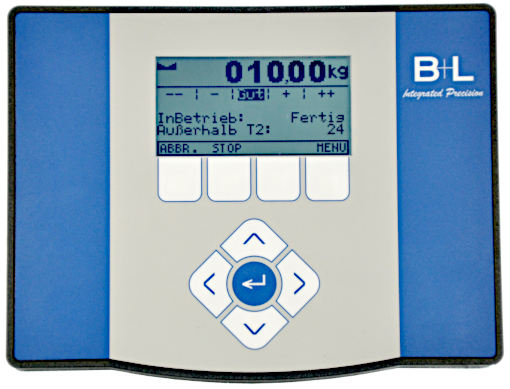 Approved weighing controller

for automatic weight check in checkweighers
Range of application

Meets the requirements of legal metrology and is certified for use in the following legal-for-trade (and non-legal-for-trade) applications:
Automatic Checkweighing Instruments (ACI) –

verifiable according to OIML R 51

Automatic Catchweighing Instruments (ACI) –

verifiable according to OIML R 51

Non-Automatic Weighing Instruments (NAWI) –

verifiable according to OIML R 76
The miniPond 3C weighing controller provides the necessary functions for trade-approved weight determination in automatic checkweighers. The high internal resolution, processing speed and signal filtering ensure fast and accurate measurements. With the registration of the product weight, it is assigned to one of five tolerance zones.
The weighing electronics control the complete checkweighing process. Weighing can be started either via a position sensor or control signal, for example from a light barrier, or via a weight threshold. Further process steps, such as tolerance signaling or rejection in case of under- or overweight, can be controlled by the configurable digital I/Os.
Presets for different articles and check weights can be conveniently selected from 100 parameter sets.
The controller offers a totalizing function and counter, logging of actual weights as well as monitoring and statistical functions.
Digital filters for optimum processing of the weighing signals and proven, powerful evaluation algorithms ensure maximum measuring accuracy, even under difficult conditions. The automatic stability detection ensures that only correct weight values are registered and stored.
The checkweighing controller can be used stand-alone or networked. It is intuitive to operate, offers dialog-guided, digital adjustment and can also be configured as a multi-range or multi-interval scale. Up to 4 load cells can be connected.
and various communication interfaces
The miniPond 3C can be flexibly integrated into almost any machine and control environment. For this purpose, the weighing controller offers 8 digital I/Os, COM port, Ethernet interface, Modbus protocol and optional fieldbus interfaces such as Profibus, Profinet or EtherNet/IP.
The integrated web server enables access via a browser, for exam­ple for setting parameters, for adjustment as well as for functional testing and fault diagnosis. Also data backup, firmware updates and remote maintenance can be carried out comfortably via the web interface.
Remote diagnostics and remote maintenance of devices at other locations via the Internet are also possible (if enabled accordingly). At the same time, the miniPond 3C can also be integrated into Industry 4.0-compliant structures and applications via the fieldbus, for example in condition monitoring applications on the supervisory control level or in the cloud. This makes the miniPond 3C not only a reliable, but also a future-proof weighing controller for automatic scales.
Features
Evaluation electronics for strain gauge load cells
Fast, precise signal processing and weight measurement with digital stabilization filters
High internal measurement resolution and stability
High operational reliability due to comprehensive monitoring functions
Diagnostic tools and support for commissioning, optimization and troubleshooting
User-friendly display of weight and status data with tolerance class
Plain-text operator guidance in 5 languages
Durable design for industrial use
Space-saving, effortless mounting with various installation options
Display unit can be mounted on the front panel without a cut-out. Template provided for drilling only 7 holes.
Functions
Automatic weight registration with stability detection and tolerance evaluation in 5 zones
Memory for 100 articles / parameter sets
Weighing start via position sensor / control signal or via weight threshold
Tare by means of weighing or parameter entry
Process control functions can be assigned to the configurable digital I/Os (e.g. over-/underweight signaling or product rejection)
Fault monitoring with alarm and logging
Totalizer and counter
Logging of the actual weights
Statistics function
Configuration and Operation
Local operator terminal
Fieldbus and other interfaces
Web server for parameter input and backup, data exchange, firmware download, remote terminal and weighing curve analysis
Connectivity / Networking
Ethernet TCP/IP
Serial COM port (RS-422/485 or RS-232)
Modbus (TCP and RTU)
Web interface
WebSocket (RFC6455)
8 digital inputs / 8 digital outputs (24VDC each), configurable function or assignment
optional fieldbus: Profibus DP, Profinet or EtherNet/IP, further protocols on request