miniPond 3F
Filling Controller

Weighing control for filling and bagging processes at medium speeds, ensuring outstanding accuracy and repeatability even with difficult materials. It is versatile and can be adapted to the respective task via parameters.
Intuitive operation thanks to clear, application-oriented dialogs and displays. Commissioning, parameterization, remote access and remote maintenance also via a network using the integrated web server or fieldbus. Easy, flexible link-up to a PLC or control system.
Approved weighing controller
for use in filling and packing machines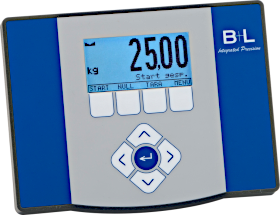 Field-proven accuracy even under difficult conditions

The miniPond 3F, to which up to 4 load cells can be connected, is designed for filling and bagging solids, bulk materials and liquids at medium throughput rates. It controls and monitors the complete dosing process and ensures excellent precision and repeatability even with difficult materials.
The weighing controller can be used stand-alone or networked. It is intuitive to operate and can also be configured as a multi-range or multi-interval scale using dialog-guided, digital adjustment. The controller offers numerous customization possibilities for different machine types and is able to flexibly adapt to changes in the respective product properties, such as material density or flow behavior, during the filling process.
From up to 7 parameter sets, presettings for different filling weights and products can be conveniently selected. Digital filters for optimum processing of the weighing signals and proven, powerful evaluation algorithms ensure maximum measuring accuracy, even under difficult conditions.
During operation, the miniPond 3F weighing controller automatically monitors a multitude of process parameters which help to optimize the system. Among others, filling weight, tolerances and process errors are recorded and evaluated. In addition, data such as counts and totals as well as diagnostic data are logged and documented. The miniPond 3F provides maximum repeat accuracy also for goods with critical filling characteristics – especially as disturbing influences are reliably suppressed, for example, in the case of process fluctuations or switching operations.
and various communication interfaces
The miniPond 3F can be flexibly integrated into almost any machine and control environment. For this purpose, the weighing controller offers 8 digital I/Os, COM port, Ethernet interface, Modbus protocol and optional fieldbus interfaces such as Profibus, Profinet or EtherNet/IP.
The integrated web server enables access via a browser, e.g. for setting parameters, for adjustment as well as for functional testing, and allows targeted fault and process diagnosis directly from the device. Also data backup, firmware updates and remote main­tenance can be carried out comfortably via the web interface.
Remote diagnostics and remote maintenance of devices at other locations via the Internet are also possible (if enabled accordingly). At the same time, the miniPond 3F can also be integrated into Industry 4.0-compliant structures and applications via the fieldbus, for example in condition monitoring applications on the supervisory control level or in the cloud. This makes the miniPond 3F not only a reliable, but also a future-proof weighing controller for automatic scales.
Features
Evaluation electronics for strain gauge load cells
High internal measurement resolution and stability
Fast and precise control of the dosing process powered by long-proven algorithms
High operational reliability due to comprehensive monitoring functions
Diagnostic tools and support for commissioning, optimization and troubleshooting
User-friendly weight and status display
Plain-text operator guidance in 5 languages
Rugged, industry-oriented design
Space-saving, effortless mounting with various installation options
Display unit can be mounted on the door / front panel without a cut-out. Template provided for drilling only 7 holes.
Filling and dosing control functions
Two-stage dosing: coarse and fine
Dosing in filling and dispensing mode
7 sets of parameters for filling weight and material parameters
Automatic zero setting or taring
Automatic free-fall compensation: proportional control with quick adaptation
Automatic checkweighing with tolerance evaluation
Fault monitoring with alarm and logging
1 additional set point, freely configurable
Totals memory and counter
Logging of actual weight and filling data
Configuration and operation
Local operator terminal
Fieldbus
Web server for parameter input and backup, data exchange, firmware download, remote terminal and filling curve analysis
Connectivity / Networking
Ethernet TCP/IP
Serial COM port (RS-422/485 or RS-232)
Modbus (TCP and RTU)
Web interface
WebSocket (RFC6455)
8 digital inputs / 8 digital outputs (24VDC each)
optional fieldbus: Profibus DP, Profinet or EtherNet/IP, further protocols on request