Modular systems enable you to centrally parameterize and monitor several weighing units or controllers.
With the HI 6600, HARDY offers a modular system for integrating and monitoring up to 28 weighing processors, and respective scales, in a network.
With the CT3 central terminal, you can configure and monitor up to 16 B+L miniPond 3F and dataPond 3F filling controllers for rotary and inline packers. So you only need a single operator terminal – and save time and money.
HI 6600

Modular Multi-Channel System with Weight Processors and a Gateway Module
Up to 28 weight processors deliver their fast, stable, high-resolution weight readings to the gateway module which sends the data to the control system (PLC, PAC or DSC) over a single fieldbus connection.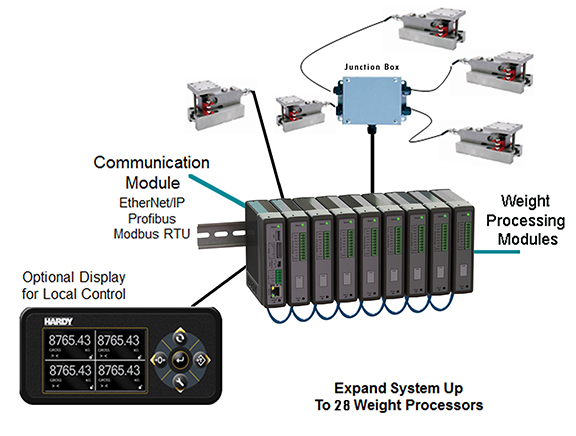 Each channel of the HI 6600 processes signals from up to four connected load cells, then outputs the entire system's weight data.
Ideal for applications that require more than one channel of weight, such as inventory tank farms, batching systems and multi-head filling machinery.
This concept provides a highly efficient and flexible package that delivers the performance of weight processors at the price of analog weight transmitters.
CT3 Central Terminal

The CT3 central terminal enables the centralized parameterization and monitoring of B+L miniPond 3F and dataPond 3F filling controllers for rotopackers and inline packers with up to 16 spouts.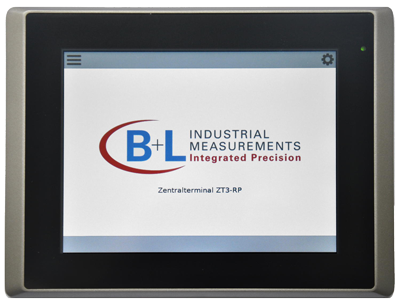 With the central terminal, the adaptation of the controllers to the system parameters and the setting of filling parameters for different material types can be carried out conveniently for all spouts via the modern touch screen. In addition, each filling controller can also be individually addressed, configured and remote-controlled in all functions from the central terminal.