Plug-in Weigh Scale Modules for ROCKWELL PLC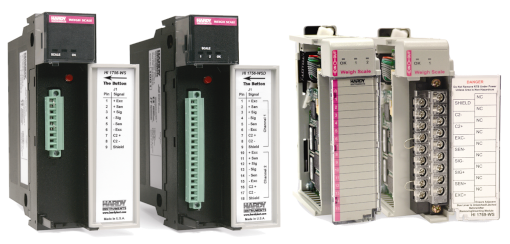 HI 1756-WS and -2WS  –  Single and Dual ControlLogix® Weigh Scale Modules

HI 1769-WS and -2WS CompactLogix® Modules  –  Small size, high performance!
Hardy's HI 1756-WS is available as a single slot, single or dual (-2WS) weigh scale module that mounts in Rockwell®ControlLogix® Chassis.
Hardy's compact weigh scale module HI 1769-WS is available in single or dual channel models for use in Rockwell® CompactLogix® PLC controllers (and certain MicroLogix™1500).
These PLC weighing modules read and condition weight and diagnostic data from one set or two separate sets of strain gauge load sensors or load cells and communicate this data over the I/O chassis backplane to the PLC processor. Both modules reduce installation costs, as they do not require an external Ethernet switch or router.
Hardy Process Solutions is an Encompass Global Partner with Rockwell Automation, which ensures a smooth workflow with their equipment.
Single or dual scale plug-in modules
C2 Electronic Calibration, fast and simple without test weights
Waversaver, automatic vibration suppression for stable, accurate weight readings
IT (Integrated Technician), integrated support tool for troubleshooting and diagnostics
Super easy and seamless integration with
Rockwell Add-On-Profiles (AOP), Rockwell Automation configuration files,
Rockwell Faceplates/AOIs for HMIs, SE and ME software instruction tags,
Direct Backplane Connectivity
Batching / Blending
Filling / Dispensing
Level-by-Weight
Check Weighing