Process weighing technology –
measuring, blending, filling, dosing, checkweighing
Ensure the quality of your processes and increase your productivity
Be it inventory measurement, level measurement, batching / blending, filling / dosing or checkweighing …
For use in industrial process weighing applications, we can offer you high-performance solutions tailored to your specific requirements and systems.
B+L Industrial Measurements has since 2005 been the authorized sales and service partner of the US-based manufacturer Hardy Process Solutions for the European market.
Hardy Process Solutions is an Encompass Global Partner with Rockwell Automation. The high-quality weighing modules and controllers of our US partner are developed in collaboration with Rockwell and are thus optimally tailored to Rockwell systems.
The B+L product range additionally offers the newly deve­loped, W&M approved and verifiable process weighing controller miniPond 3P, which can be easily integrated into all systems.
miniPond 3P

Multifunctional weighing controller for process technology
The new miniPond 3P weighing controller from B+L offers maximum versatility and precision when filling bulk solids and liquids. Various configurable weighing modes, dosing settings and automatic functions are available. In addition, the miniPond 3P meets the relevant OIML and MID requirements for approved, verifiable weight determination – also in totalizing mode.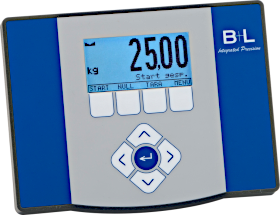 Thanks to integrated, fast dosing algorithms, the miniPond 3P can work autonomously without time-critical communication to the higher-level control system and thus ensure delay-free and time-optimized dosing processes. The multifunctionality of the miniPond 3P with approval for ATEX Zone 22 is underlined by its high level of integration and user-friendliness, a web server for task-specific parameterization, for remote diagnosis during operation and for remote maintenance, as well as by comprehensive connectivity options.
Process weighing electronics from the HARDY product range
Our customers such as Mars, Royal Canin and Goodyear are convinced by the particular benefits:
Practical: the fast and simple C2 Electronic Calibration without the need for test weights
Stable: the automatic vibration suppression (WaverSaver)
Secured: settings and adjustment data are securely stored for back-up and transfer (Secure Memory Module)
Networked: the integrated web server enables remote access and setup of the instruments via Ethernet (Embedded Web Server)
Built-in support: Hardy instruments are equipped with a powerful diagnostic and troubleshooting feature (Integrated Technician)
Active support: for planning, installation and operation of the Hardy devices, our competent B+L support is always at your side.
HI 6500 and HI 6500-XP

Weight Processors Now Include Extreme Weight Processor Version with 6X the Speed and 3X the Resolution

The HI 6500 and HI 6500-XP weight processors are very fast and reliably accurate, they offer all common connec­tion possibilities and an optional multi-channel display for up to 4 instruments. Weight processors are used as front ends to control systems or standalone for all types of general weighing applications.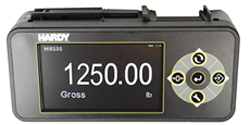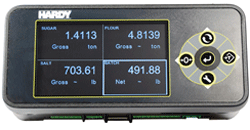 The HI 6500-XP Extreme Processor is identical in construction to the HI 6500, but with faster weight processing of 660 updates per second and a resolution of 1:30,000. The HI 6500-XP represents the state-of-the-art in processing uniformity and speed.
It is ideal for high-speed filling, dispensing and check weighing, where materials are often fed and weighed in motion at high speeds.
HI 6600

Modular Multi-Channel System with Weight Processors and a Gateway Module
Up to 28 weight processors deliver their fast, stable, high-resolution weight readings to the gateway module which sends the data to the control system (PLC, PAC or DSC) over a single fieldbus connection.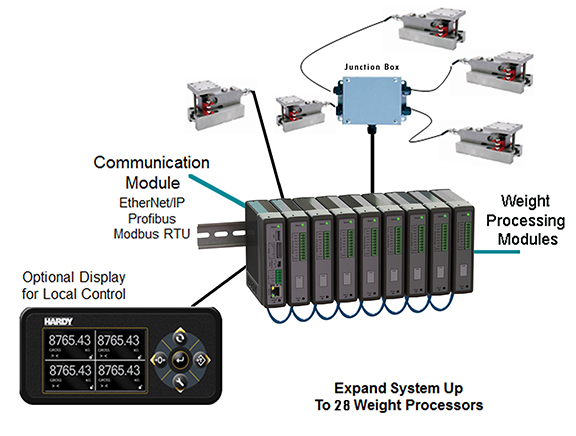 Each channel of the HI 6600 processes signals from up to four connected load cells, then outputs the entire system's weight data.
Ideal for applications that require more than one channel of weight, such as inventory tank farms, batching systems and multi-head filling machinery.
This concept provides a highly efficient and flexible package that delivers the performance of weight processors at the price of analog weight transmitters.
HI 4060

Loss-in-Weight Rate Controller

Hardy's HI 4060 is a compact, single-feeder, closed-loop rate controller for use in a variety of applications, including auger, belt and vibratory-based feeders, converting them from volumetric to gravimetric.
The HI 4060 is a powerful building block when it comes to multiple feeder systems.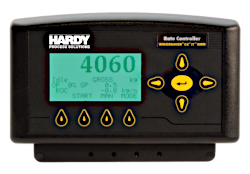 Automatic closed loop control: continuously adjusts the feeder to deliver the desired feed rate,
True 5-point automatic rate calibration produces high feed accuracy,
Automatic feeder refill without interrupting the feeding of material
Multiple configuration storage,
Error monitoring with alarms,
Convenient manual mode,
Graphics Display Mode
HI 4050+

Weight Controller
The fast, high-resolution HI 4050+ has proven itself over many years in process weighing applications. The instrument is scalable, easy to configure and operate and the SD memory card guarantees easy data transfer.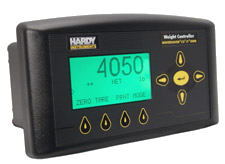 The HI 4050+ acts as a front end weight controller to a PLC, PC or DCS system. It also operates as a standalone weight controller or monitor.
With selectible 100 or 250 updates per second, a processed weight resolution of 1:30,000 and an addressable resolution of 1:100,000, the HI 4050+ displays accurate, stable rate readings fast
PLC Weighing Modules
Plug-in Weigh Scale Modules for Rockwell PLC
Hardy's HI 1756-WS and HI 1769-WS are single or dual channel weigh scale modules that will plug directly into a Rockwell®ControlLogix® or Rockwell® CompactLogix® chassis. Easy integration with Rockwell Add-On-Profiles (AOPs) and Faceplates with Add-On-Instructions(AOIs).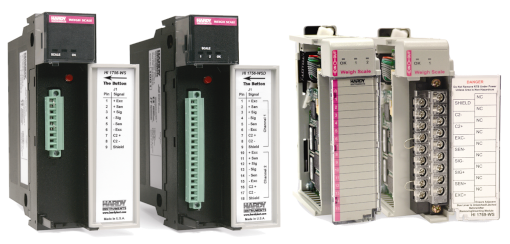 These PLC weighing modules read and condition weight and diagnostic data from one set or two separate sets of strain gauge load sensors or load cells and communicate this data over the I/O chassis backplane to the PLC processor. Both modules reduce installation costs, as they do not require an external Ethernet switch or router.
HI 1734-WS Point I/O
Ultracompact plug-in Weight Processing Module for Rockwell Point I/O

A Rockwell-Add-On-Profile (AOP) and Faceplate with Add-On-Instructions (AOIs) make it easy to integrate the HI 1734-WS into the manufacturing process control applications of a Rockwell controller with no programming required.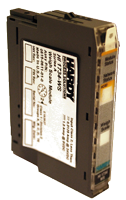 Ideal for POINT I/O applications where fast, stable weight data and low cost of ownership are critical components. Designed exclusively for weight processing, the HI 1734-WS enhances productivity of manufacturing systems by digitally suppressing noise and dramati­cally reducing scale settling time.
It is just a 1/2″ wide and can be inserted and removed under power (hot-swap).