For weighing and level measurement of silos and tanks, the C2 electronic calibration – without heavy test weights – is the decisive advantage of HARDY weighing instruments:
HI 6500 and HI 6500-XP

Weight Processors Now Include Extreme Weight Processor Version with 6X the Speed and 3X the Resolution
The HI 6500 and HI 6500-XP weight processors are very fast and reliably accurate, they offer all common connec­tion possibilities and an optional multi-channel display for up to 4 instruments. Weight processors are used as front ends to control systems or standalone for all types of general weighing applications.
The HI 6500-XP Extreme Processor is identical in construction to the HI 6500, but with faster weight processing of 660 updates per second and a resolution of 1:30,000. The HI 6500-XP represents the state-of-the-art in processing uniformity and speed.
It is ideal for high-speed filling, dispensing and check weighing, where materials are often fed and weighed in motion at high speeds.
HI 6600

Modular Multi-Channel System with Weight Processors and a Gateway Module

Up to 28 weight processors deliver their fast, stable, high-resolution weight readings to the gateway module which sends the data to the control system (PLC, PAC or DSC) over a single fieldbus connection.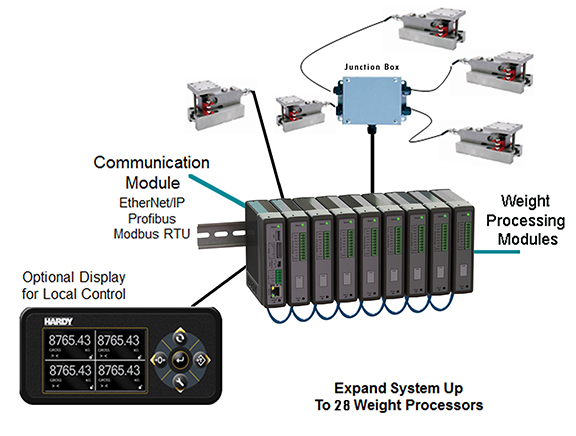 Each channel of the HI 6600 processes signals from up to four connected load cells, then outputs the entire system's weight data.
Ideal for applications that require more than one channel of weight, such as inventory tank farms, batching systems and multi-head filling machinery.
This concept provides a highly efficient and flexible package that delivers the performance of weight processors at the price of analog weight transmitters.